You are here Take a Leap at Toroweap? Part Two
Take a Leap at Toroweap? Part Two
---
Take a Leap at Toroweap? Part Two
---
Day two, up at 05 somthin' we want to be on the road by 6am!... no breakfast... granola bars will have to do... we have a lot of time to make up. We take the same route South out of St George and thankfully dodge what ever patch of nails Trent ran over yesterday. We pass our farthest point South from yesterday and so far so good!... new tubes from the Hardly dealer are holding up
... about 60 miles South we come to the old ranching community of Mt Trumbull and the old school... (well, not exactly, the original was burnt down by some drunken jerks a few years back so the existing Mt Trumbull School has been rebuilt)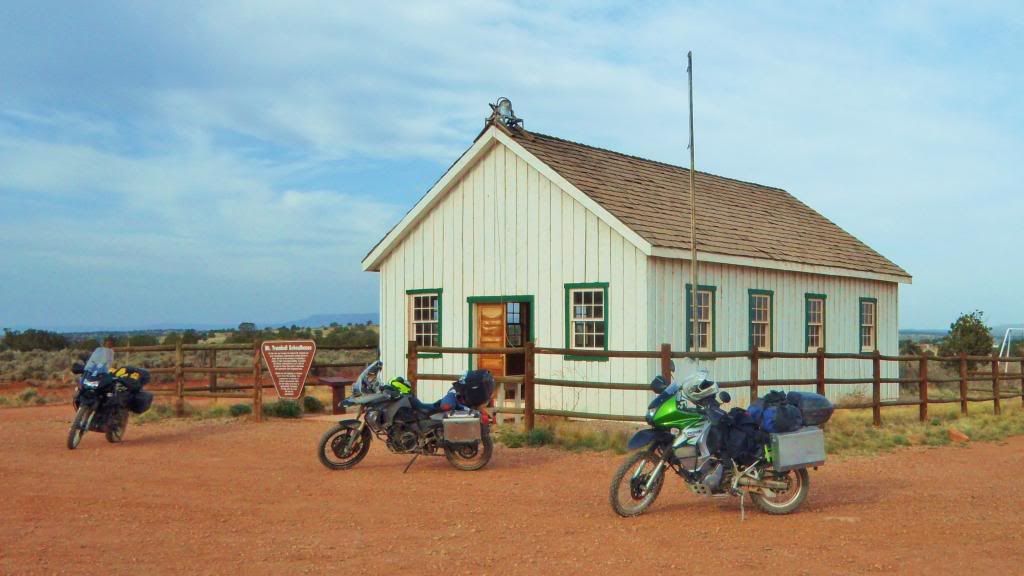 Lots of history... they've done a great job restoring the school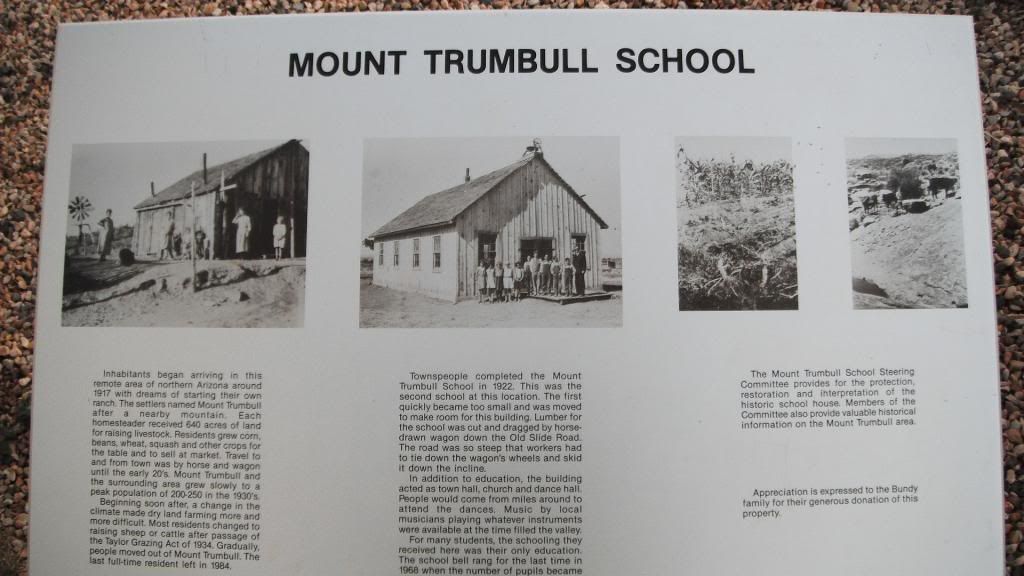 At one time, this was a thriving ranching community... but as with most rural places in America, everyone has moved to the cities and there are just a few working ranches now.
We've come far... but still have far to go... fortunately no problems...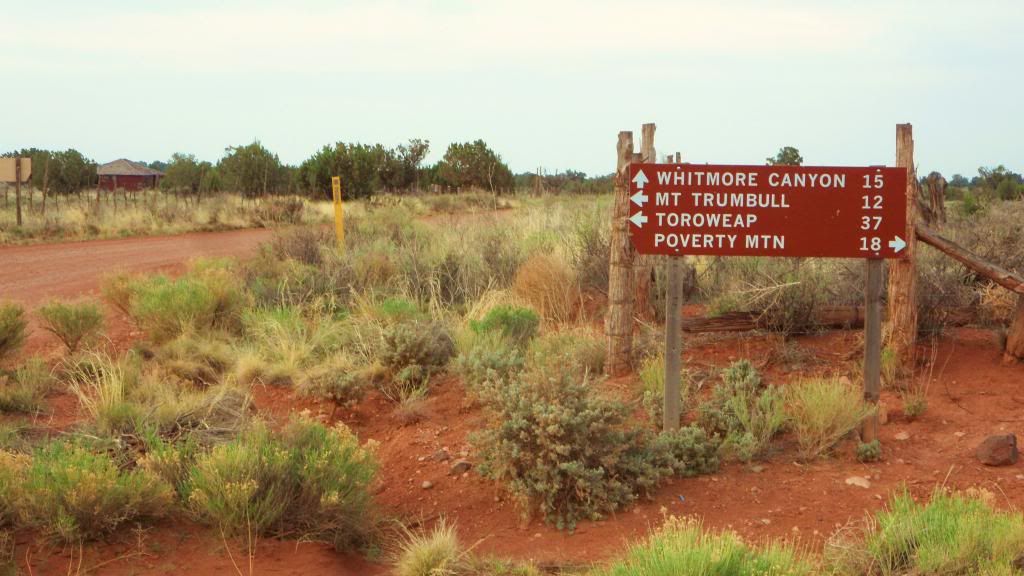 the road leaves Mt Trumbull (the town way down there on the flat) and heads South East over Mt Trumbull (the Mountain)...
it's a steep, rough and fun road, topping out around 9000' in elevation with Ponderosa Pines up on top, then it drops down again to the plateau about 15miles North of Toroweap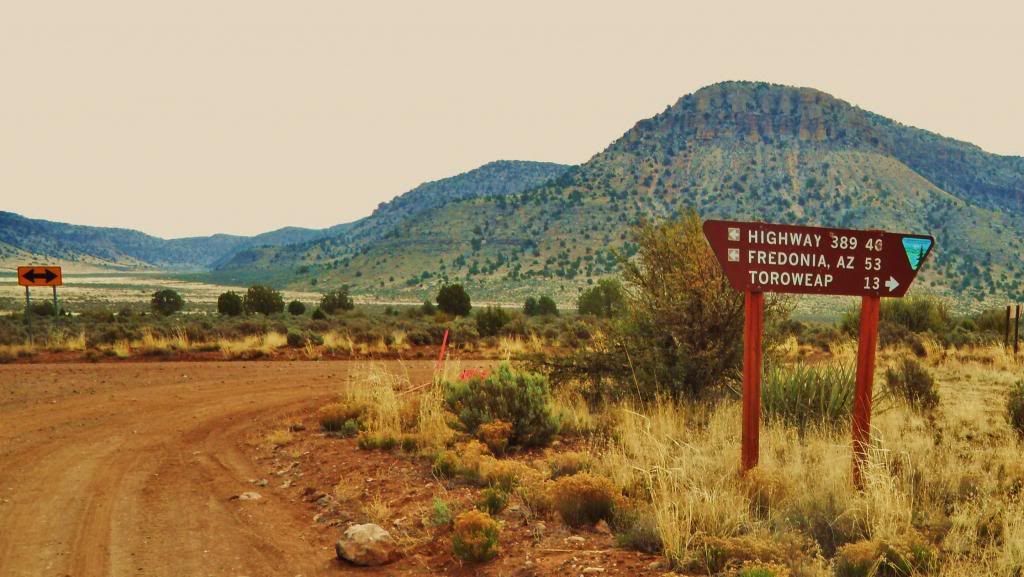 Heading South, getting closer, it's about 11am, we've made good time.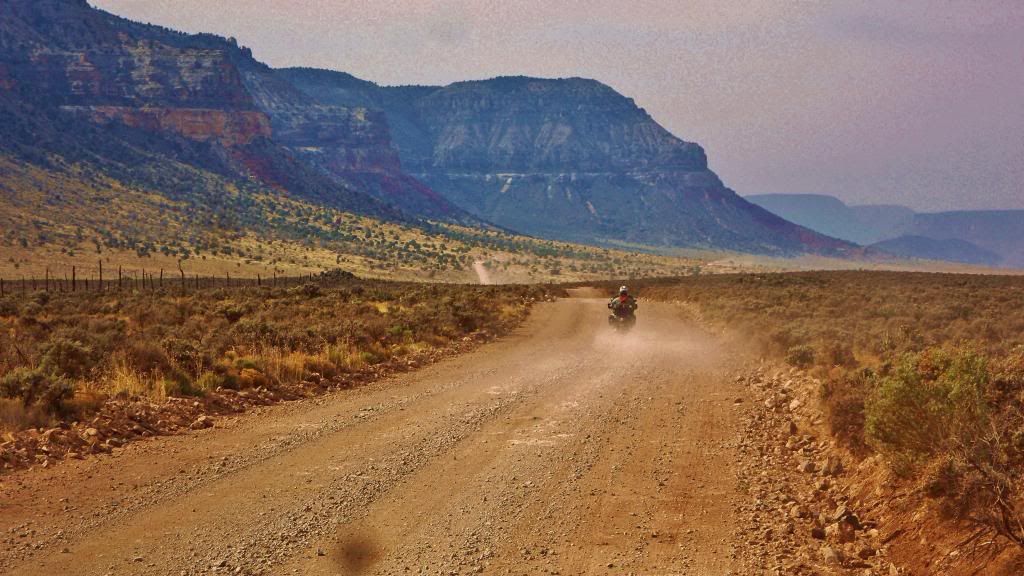 Finally we get to the NP boundary... We've arrived!...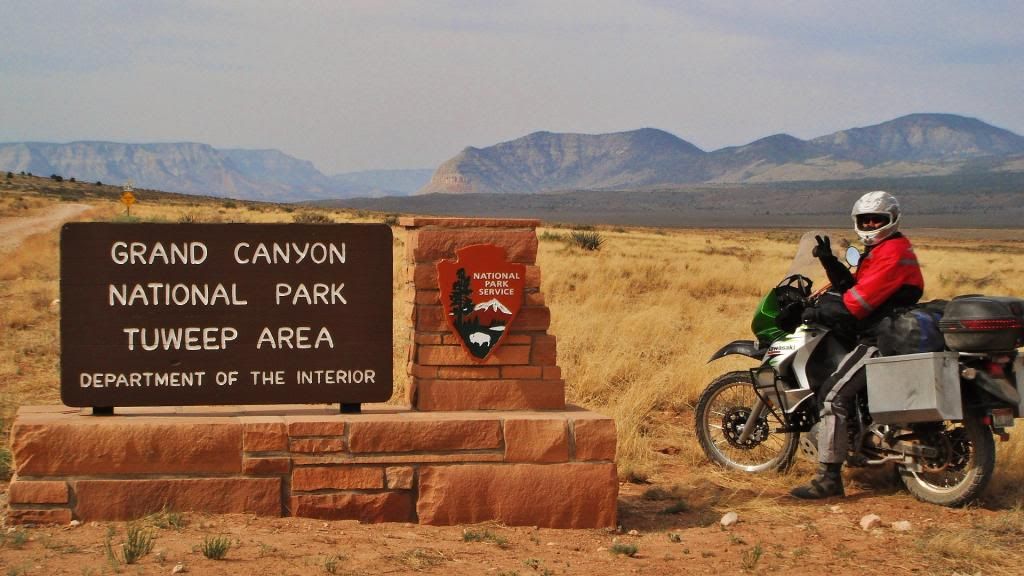 well... sorta, we're still about 9 miles from Toroweap and the rim of the GC... This sign at the Ranger station seems to mean business!
The road begins to deteriorate once you pass the ranger station... high clearance in places...
And nasty patches of poof dust about 6 to 12 inches deep... ya gotta pay attention in this stuff!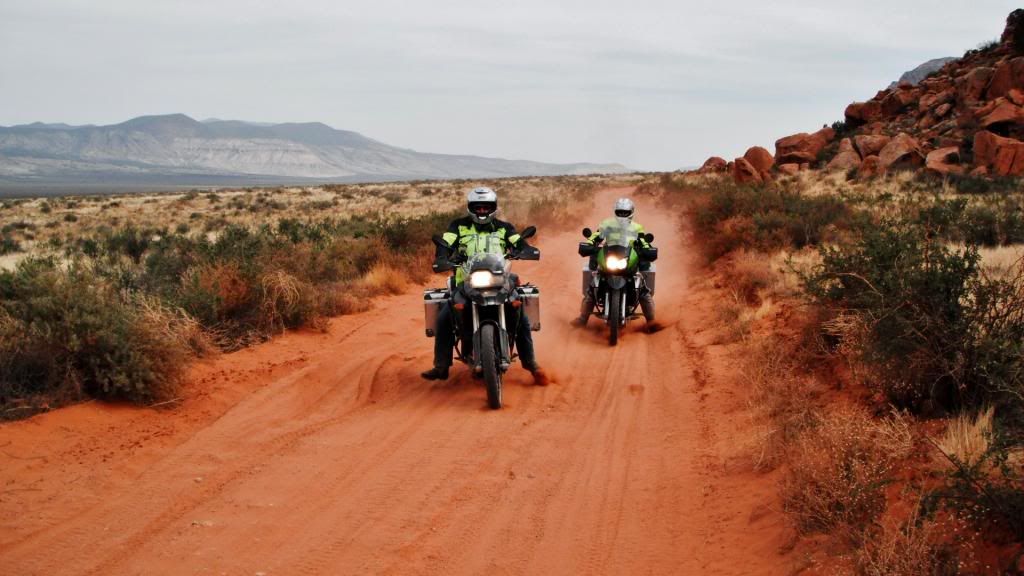 Always fiddlin with somethin...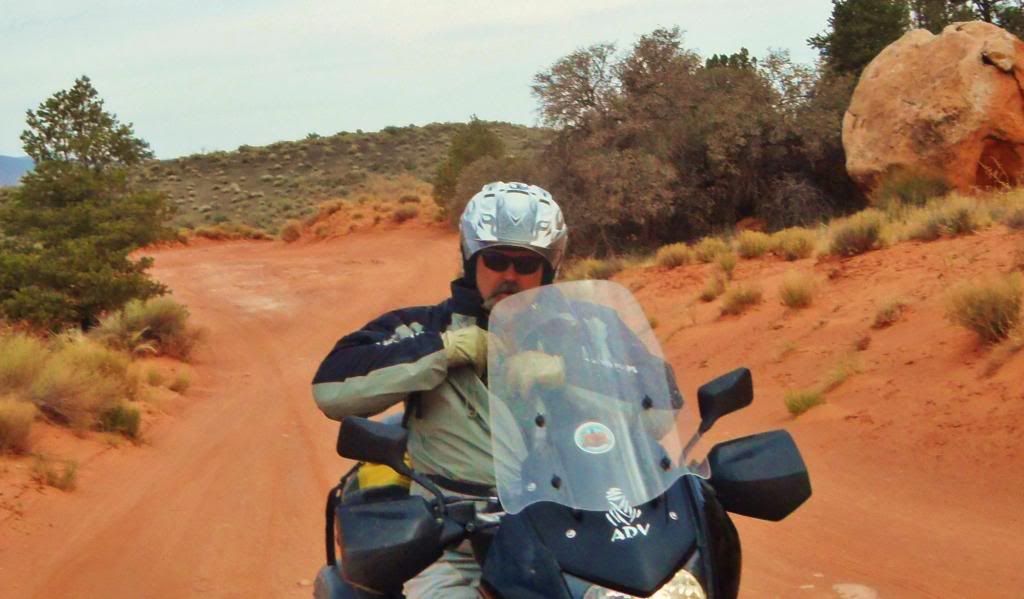 This last bit of road is really fun... this is what we came for!!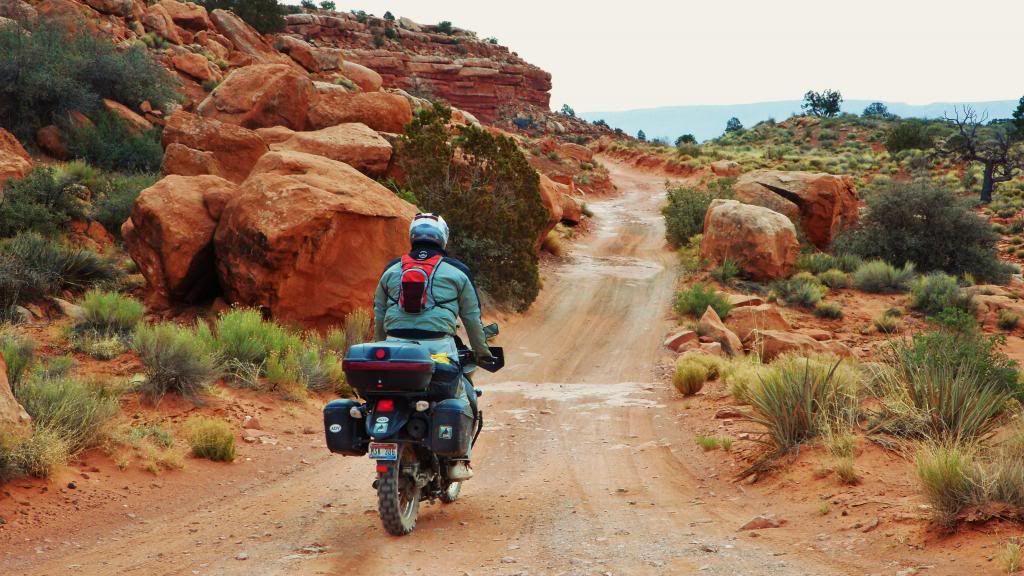 We're getting closer to the Rim... the road is turning into Sandstone bedrock...
things are looking good now, this is the campground area... nice!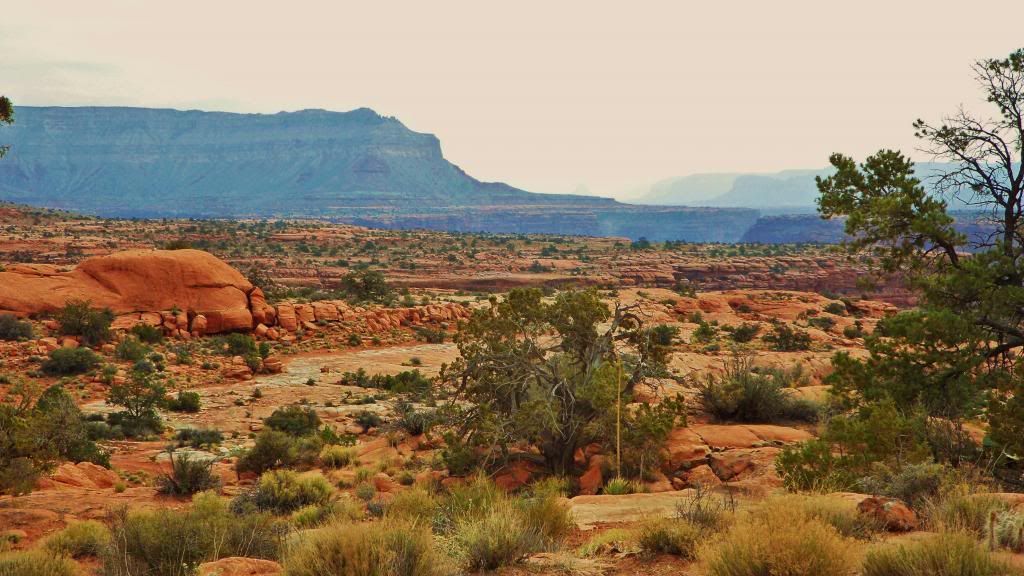 We're here!!... I think this is gonna be worth it!
This is an amazing place!! ok, this is the shot you've been waiting for!... if you've got a weak stomach, look away now... 3000' straight down to the river... yikes!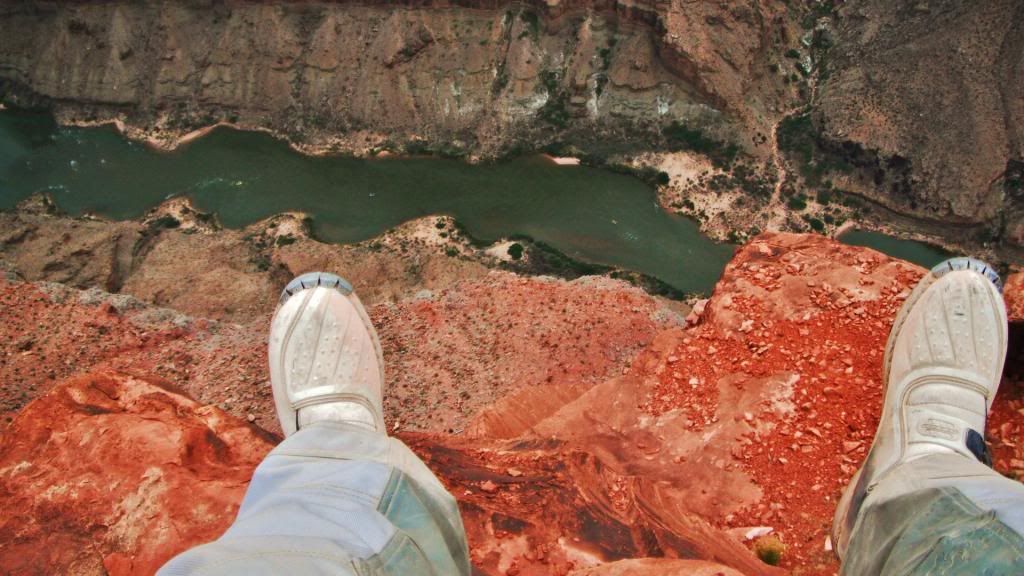 Those are 20' rafts down there on the river below my feet, they are like pin points down there!... wow! there is so much beautiful stuff to see here, I can't show it all, but here are a few shots from the area: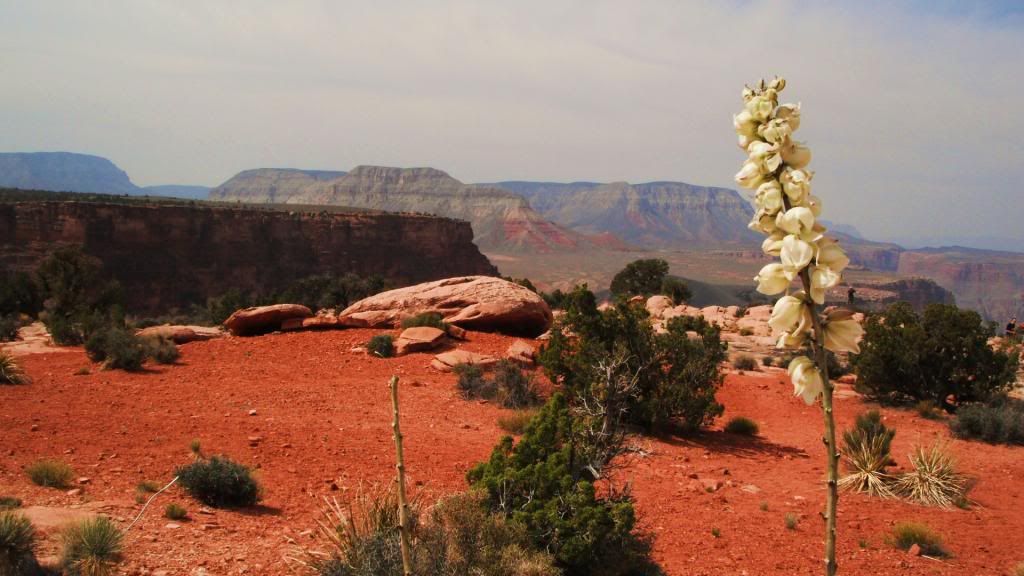 No guard rails here... your on your own to explore!
Lava Falls down river about 3 miles... it kicked my butt a few years ago in the raft... considered by most to be the toughest rapid in the 300+ mile Grand Canyon Float
Shades of Poe...
It's been a long ride, gotta rest up for gettin outta here...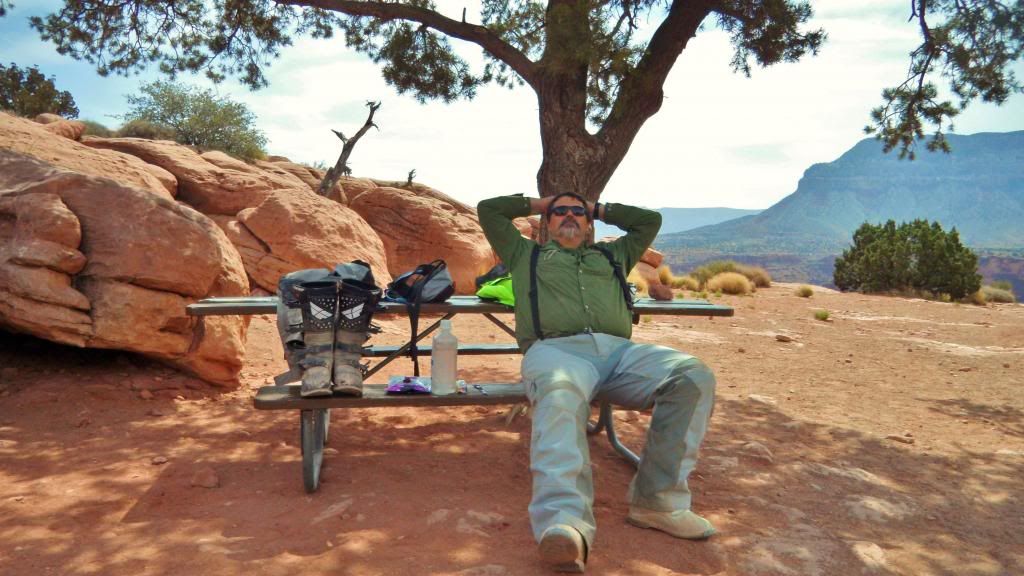 All good things must come to an end, time to move on... Wow, we have loved this place!!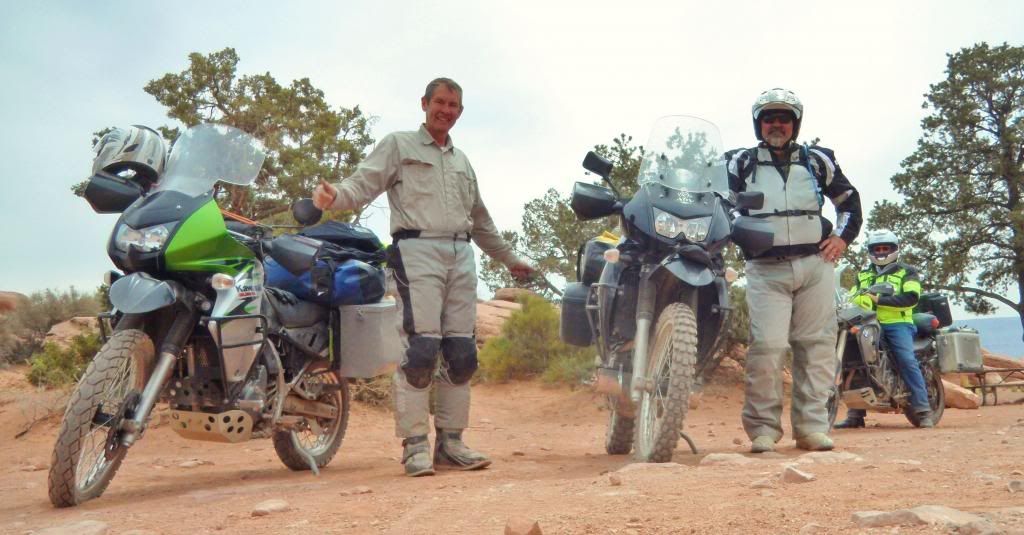 Now we have 60 miles of dirt road to get to Colorado City...
about halfway out...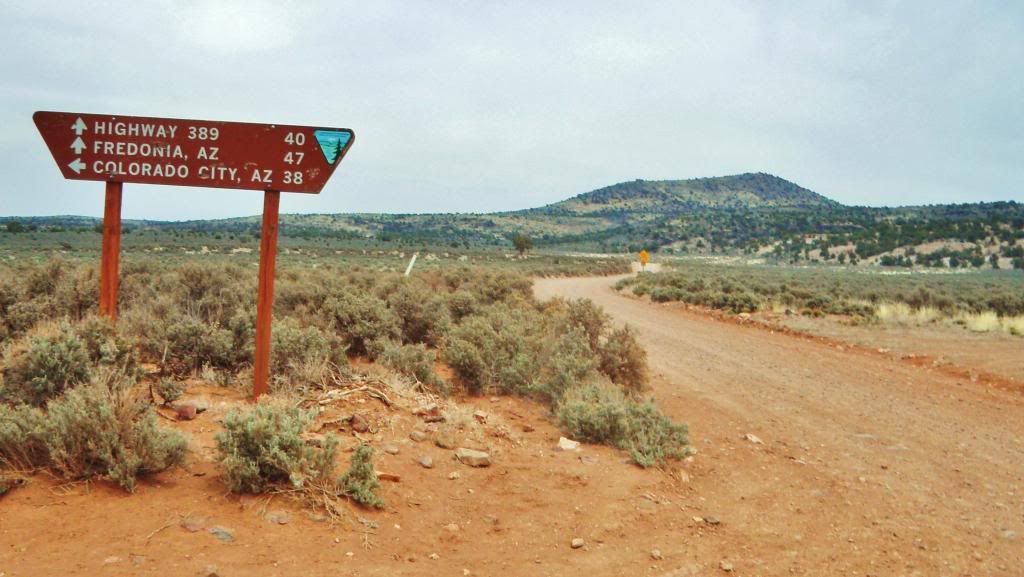 The road out to Colorado City turns out to be sorta treacherous!... lots of pits of poof dust, problem is, the road will be fine, your cruising along good gravel at 50mph and all of a sudden you hit a pit of this stuff...
notice the furrow Trent plowed with his pannier!!...
By the time we get to Colorado City we are tired of fighting this stuff, we try the road to Coral Pink Dunes, but find it is made up almost entirely of this poof dust and every cager that goes by just buries us in dust!... after several crashes, Trent and Jim have lost their sense of humor about this stuff and we abandon Coral Pink Dunes... another day!! instead we opt to go to Zions Park to finish the day, but not the part of Zions that most people see, we go to Kolob Canyon, on the North West portion of Zions... it is an amazing place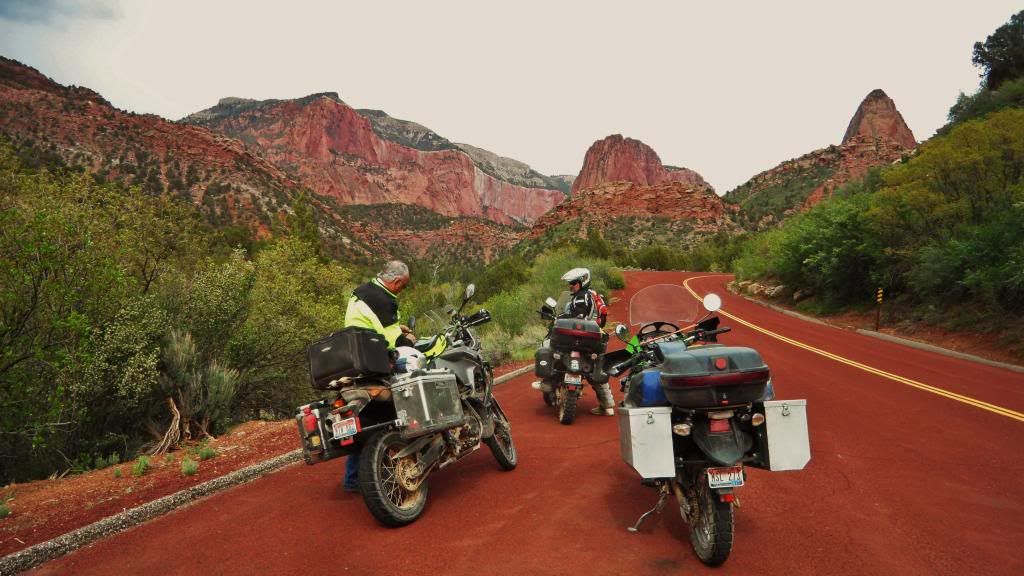 No crowds here, and no tour buses... just us!!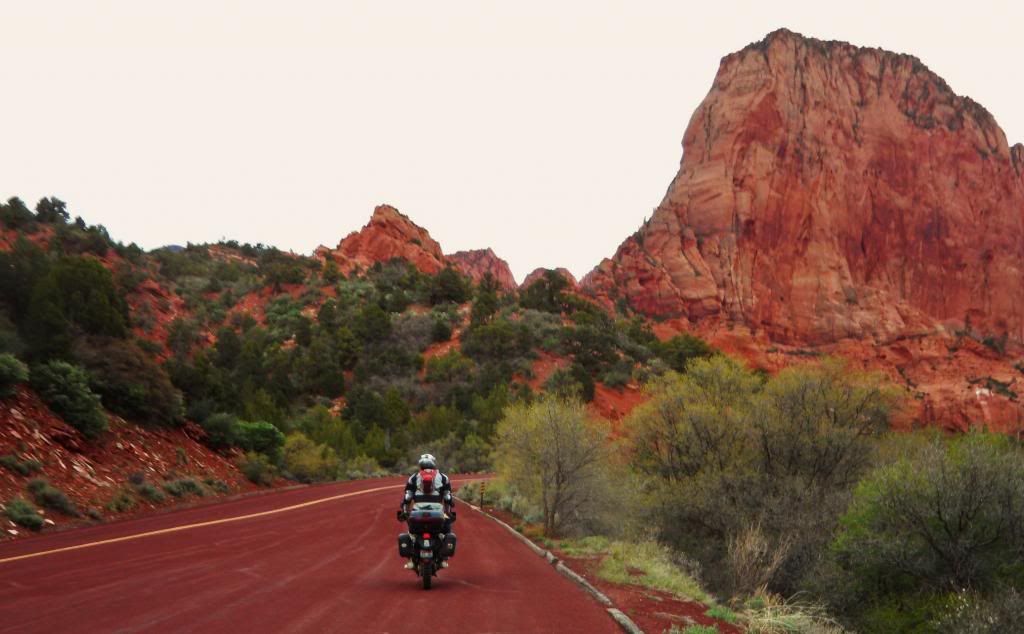 It doesn't get much better than this!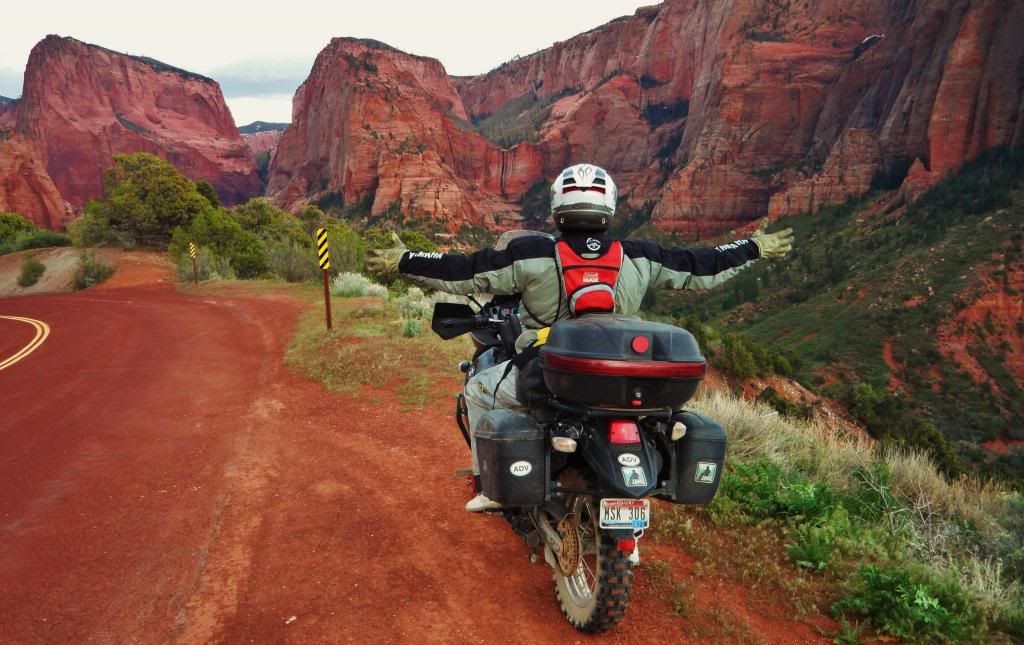 Well it's been a long day, with some amazing country...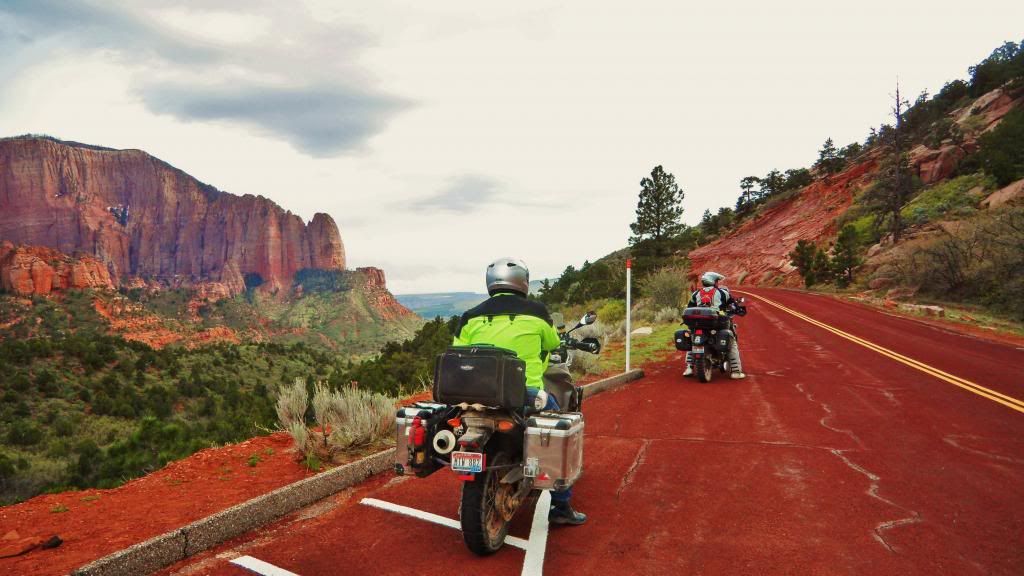 All good things must come to and end... time to load em up and head home...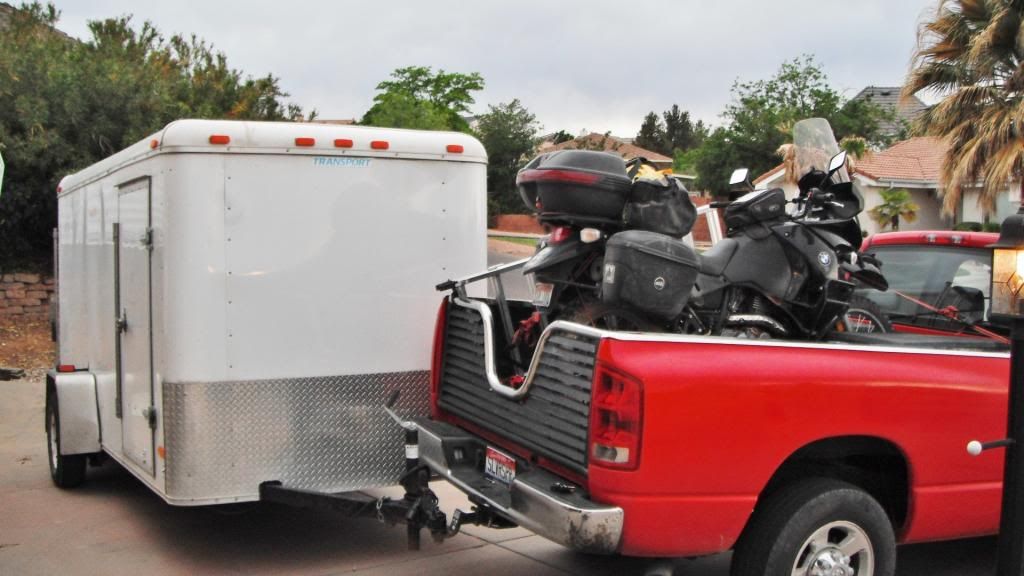 it's been a great trip, if you get the chance to ride down to Toroweap, take it!! one of those special places... but take some extra tubes!!...
thanks for coming along... see ya out there!
...