You are hereThe IDA-NEV High Desert Ghost Town Tour... #2
The IDA-NEV High Desert Ghost Town Tour... #2
---
When we set up our route for this tour, we saw a road on the maps that would take us directly to Rowland. The problem was, that when I tried to route it on Google maps, it would not take it as a route... hmmm something wrong there, perhaps abandoned??
I called the NF and also the Elko Sheriffs office to see what they new about NF rd 67... the gal at the NF said there had been a washout some time past and that the road had never been repaired, but that she thought there had been people get through on dirt bikes, the Sheriffs office just said the last they heard the road was closed... hmmm, conflicting reports!!

if we didn't take NF 67, then we had to two other options from Charleston to Rowland; the first was the Charleston/Jarbidge road which was closed due to snow, the other option was to back track out to the hi-way and Mountain City then try to take NF rd 37 to Rowland. Problem was that we didn't have enough fuel, even with our emergency fuel that we carried...
we needed NF rd 67 to work, so we cold go to
Rowland and then to Jarbidge where we should be able to get more gas...

so we have just left Charleston and it was decision time... do we try NF 67 with the possibility of being turned back?... We decided to go for it.


The intersection of decision
... left is back to the Hiway (30 miles) or right on NF 67 to Rowland (22 miles... Maybe...)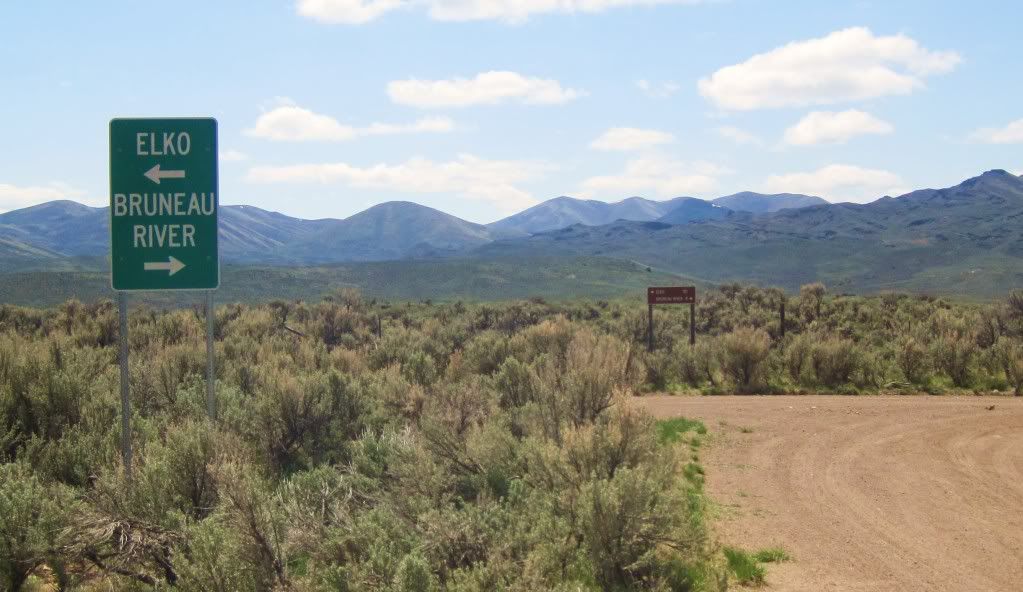 We decide to take NF 67... there can be no "adventure" without some risk!...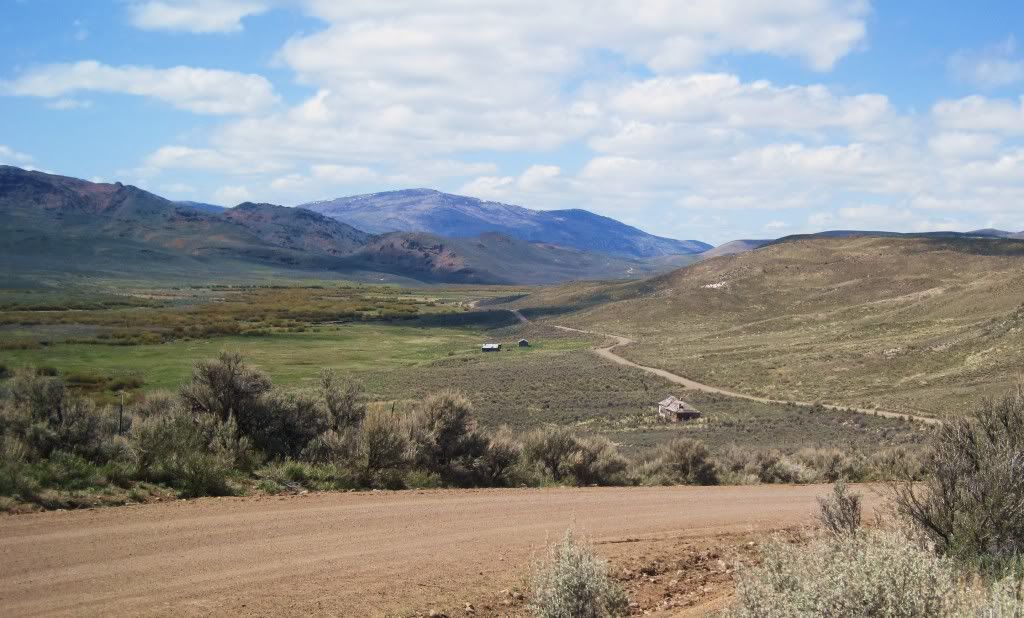 looks good so far!!
after about a mile, the road goes through a Ranch yard, then a closed but accessible gate... it then becomes a much narrower and less traveled road...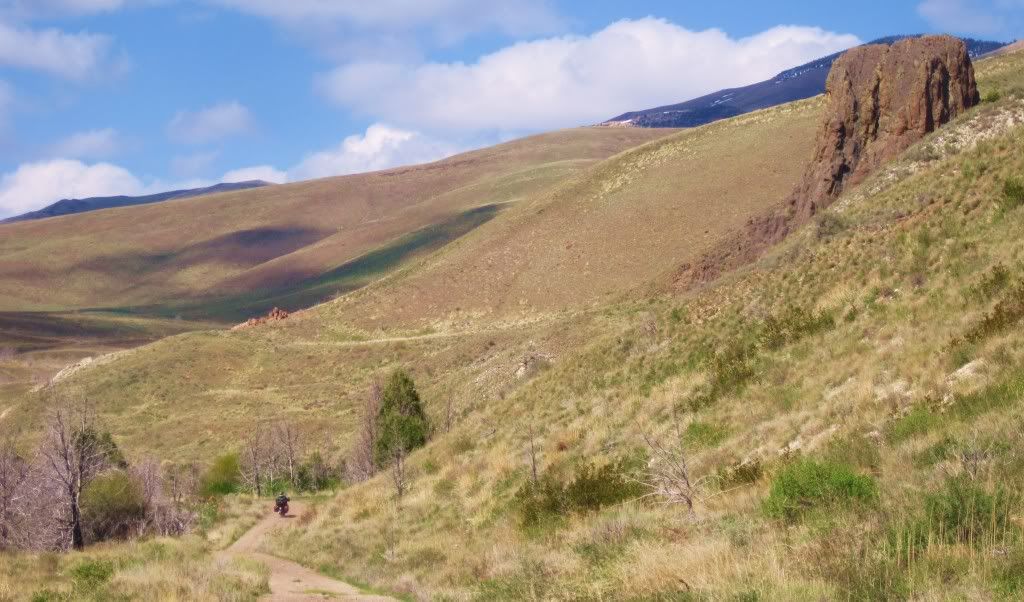 NF rd 67 parallels the Bruneau River for over 22 miles... it is a beautiful ride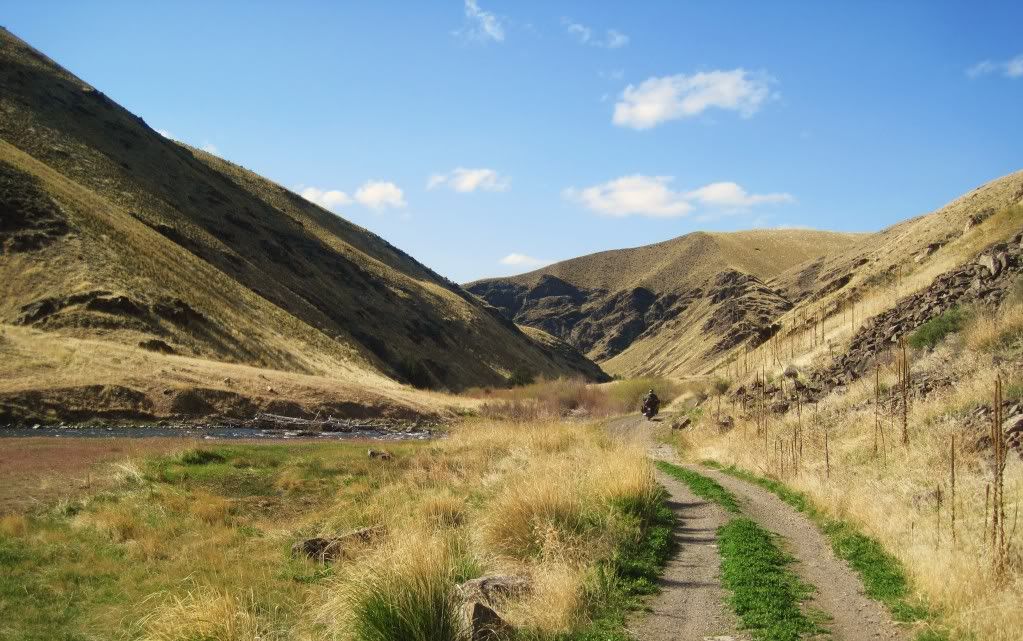 NF rd 67 doesn't get much traffic, we saw no fresh tracks as we headed North for the first 15 miles, in places it's more like a jeep trail...




we are starting to fall in love with this road... hope it goes through!!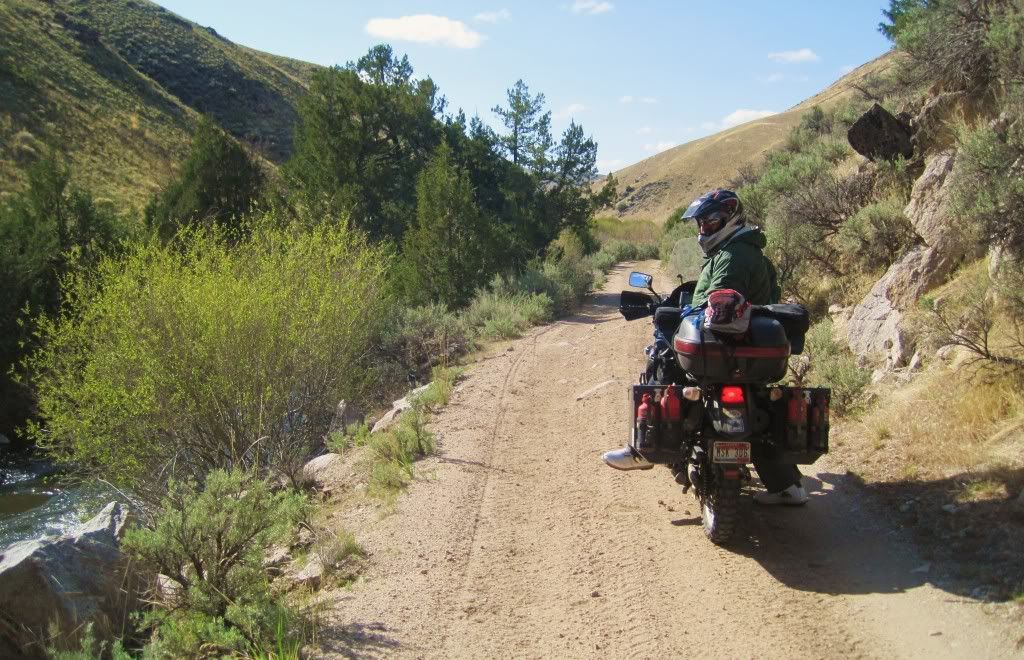 22 miles of this!! even if we don't get through, it is worth it!!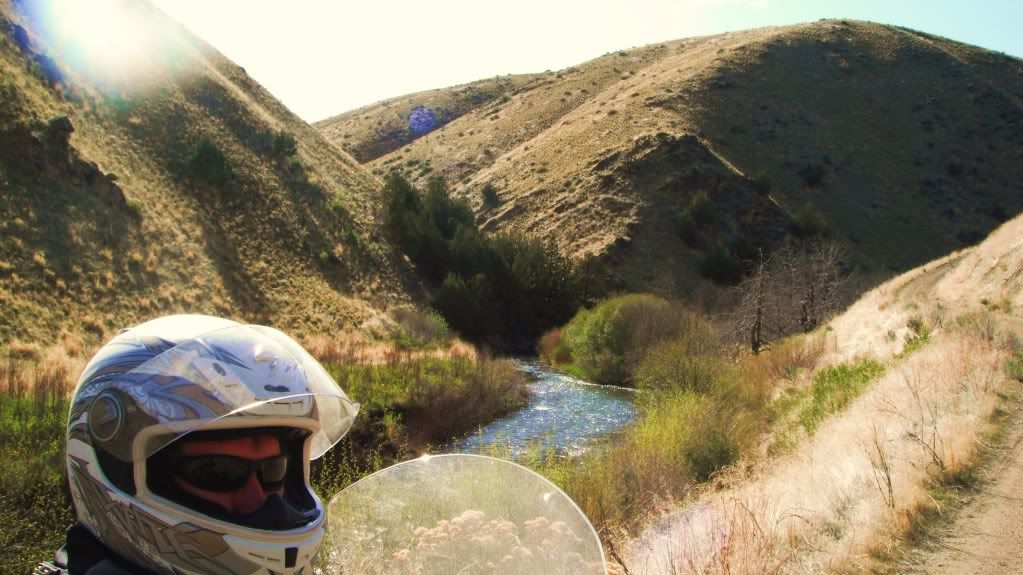 we're starting to get a bit nervous at this point we have come upon a few troublesome spots, but nothing we couldn't handle easily...




but it gets better... we're starting to have hope!!




maybe this is why the roads closed! maybe for a car, but no problem for a bike!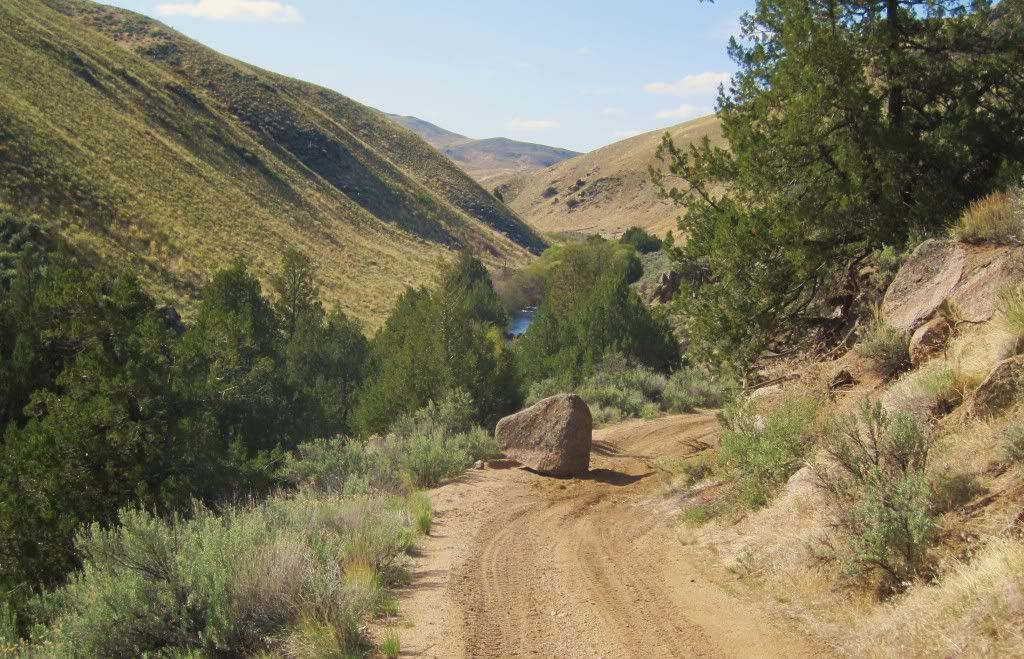 we did find a spot where a canyon had blown out and there was a large mud mound over the road for 30 yards or so, but it was easily passable on our loaded KLRs... we also found a creek crossing that has large basketball size boulders in it, a rough crossing, you have to pick your route carefully, but doable...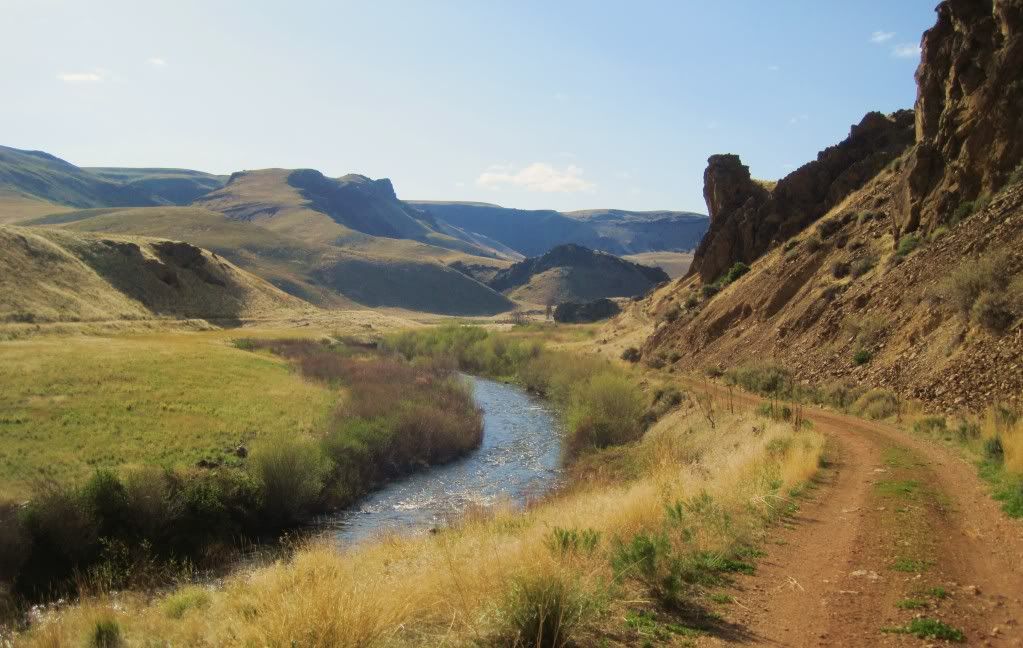 as it turned out, while NF rd 67 is a level 3 road due to a few rough spots, it is passable on a fully loaded DS, and it is 22 miles of the best DS motorcycling I have ever ridden!! Highly recommended!!


Since we had last filled up 180 miles ago in Elko... we were glad we had made it through, after visiting Rowland, we had about 30 miles over the mountain to Jarbidge where we expected to get gas...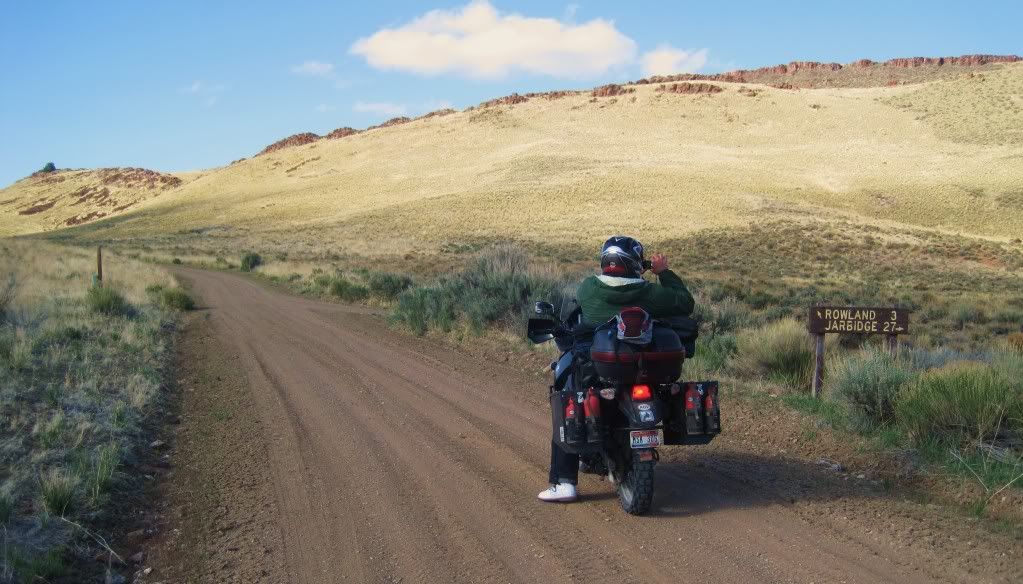 Rowland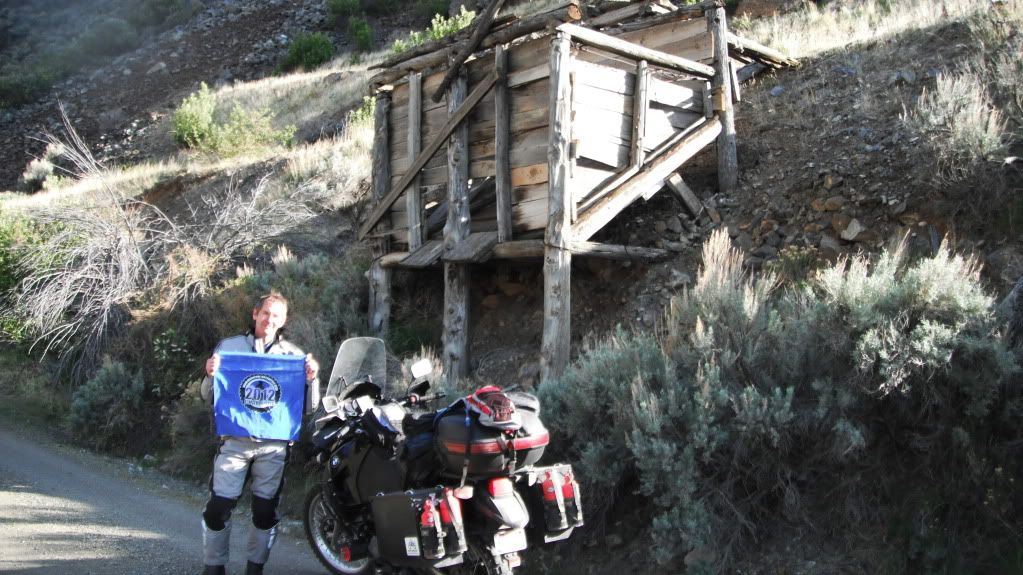 Now on to Jarbidge... a very pretty ride... this is the divide between the Bruneau and Jarbidge river drainages




heading toward Jarbidge...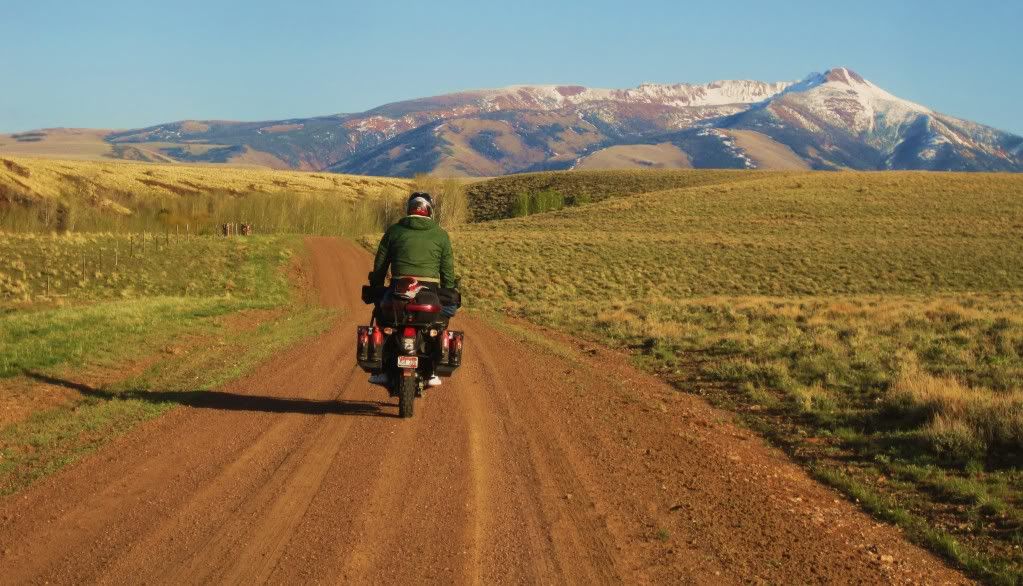 wide shot...





Sooo it's been 200 miles since our last gas... We're finally at Jarbidge we need gas!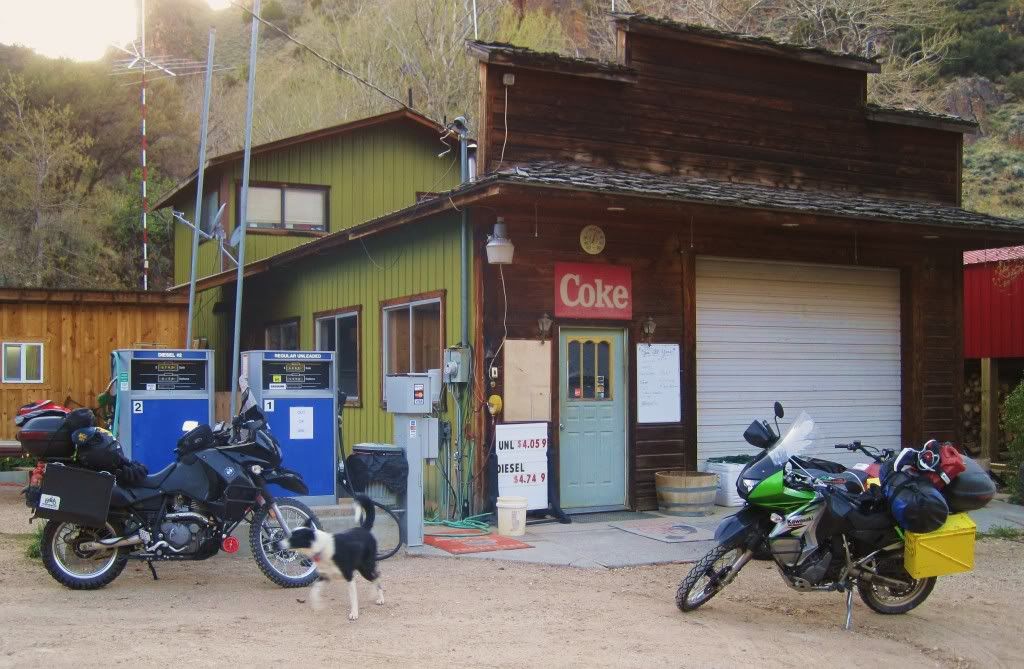 Oh nuts!! They have Diesel, but no Unleaded!!
we are screwed!! each of us are getting close to going on reserve... fortunately we each are carrying 1 gal of gas as emergency backup... question is, will that be enough to get to the next station which is at least 60 miles away??

It's been a long day, it's 8:30 pm and we need to find a campsite... we go down the road toward Murphy HS and find a nice spot along the East Fork of Jarbidge River about two miles From Murphy HS...




we find a nice site, set up camp, heat some water and eat our Freeze dried dinners...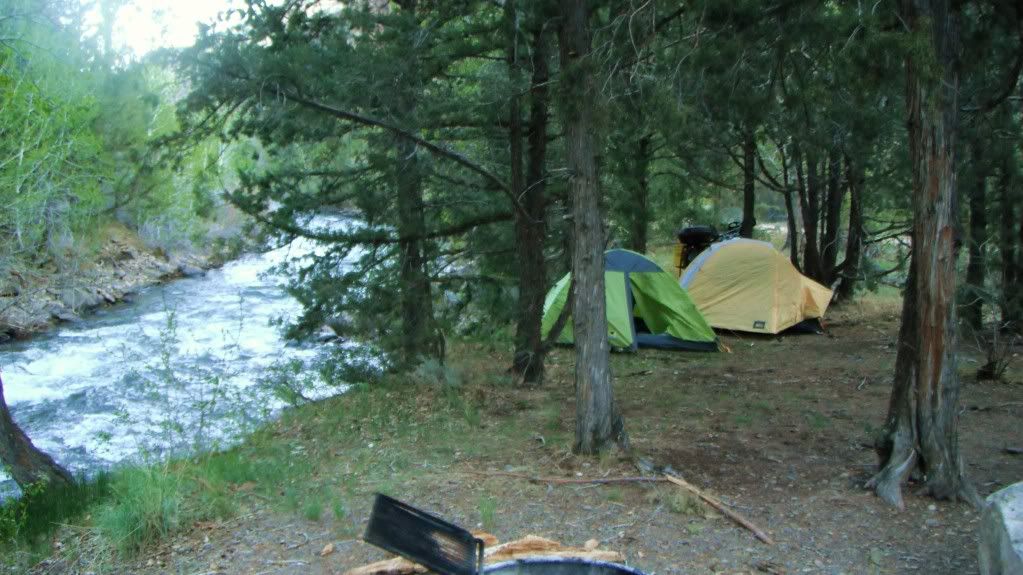 it is very cold tonight... we both have good gear, but my toes are cold all night and water left out is frozen in the morning, really glad I brought that down jacket!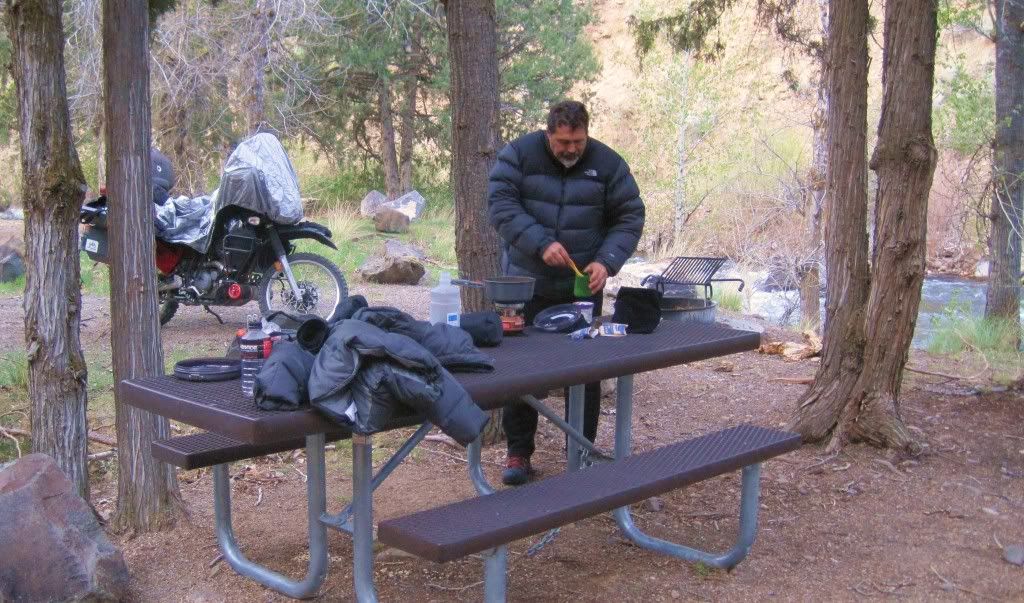 first time I've tried this instant oatmeal from Quaker... it's good stuff, highly recommended...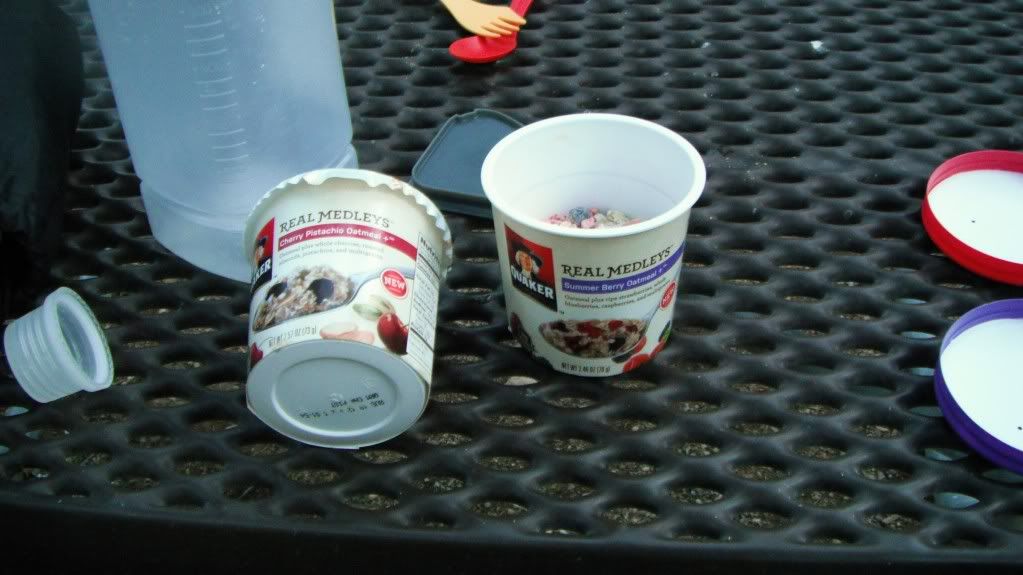 we finally get our frozen gear packed up and head East toward Three Creek... hoping we can make it out on the gas we have...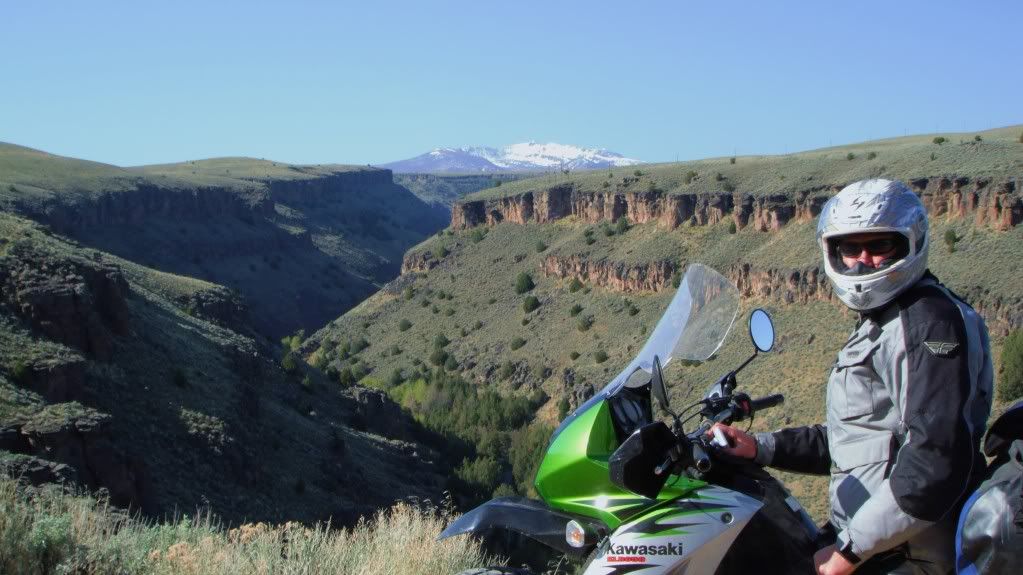 topping out of the canyon with the Jarbidge Wilderness in the back ground




we are having a tough time finding Three Creek Store... the coordinates on the IAMC site take us to a ranch, not Three Creek, Frustrating!!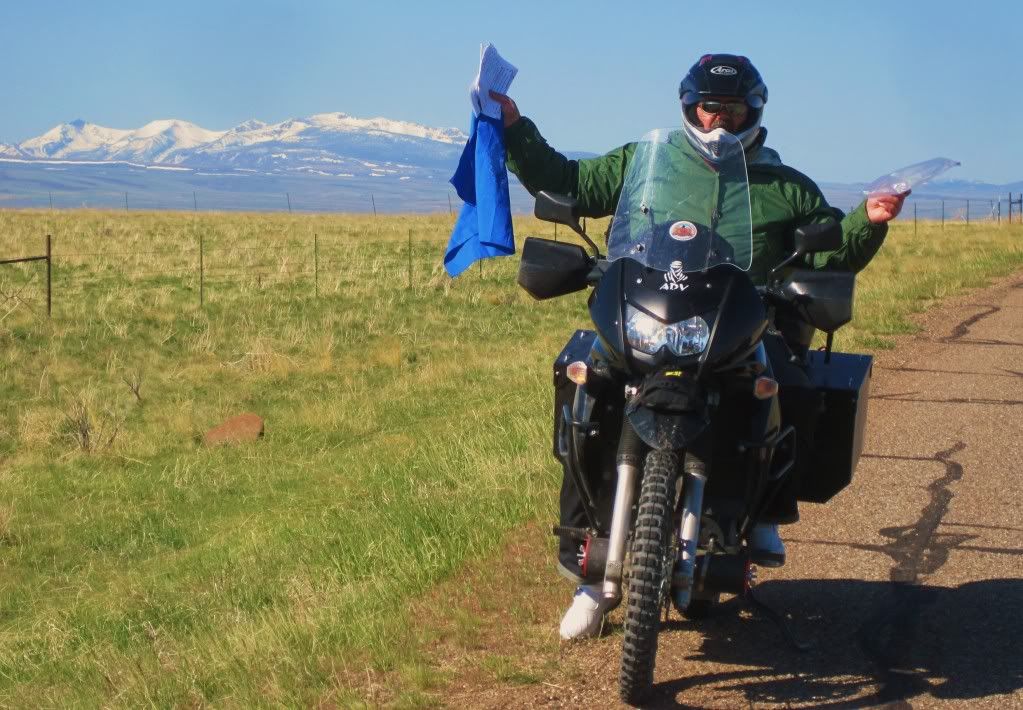 we come to a ranch that matches the coordinates posted for Three Creek, they are gathering cattle to brand the spring calves today, so they have all their relative over to help... these kids wave as we stop and are very interested in our bikes... cute kids!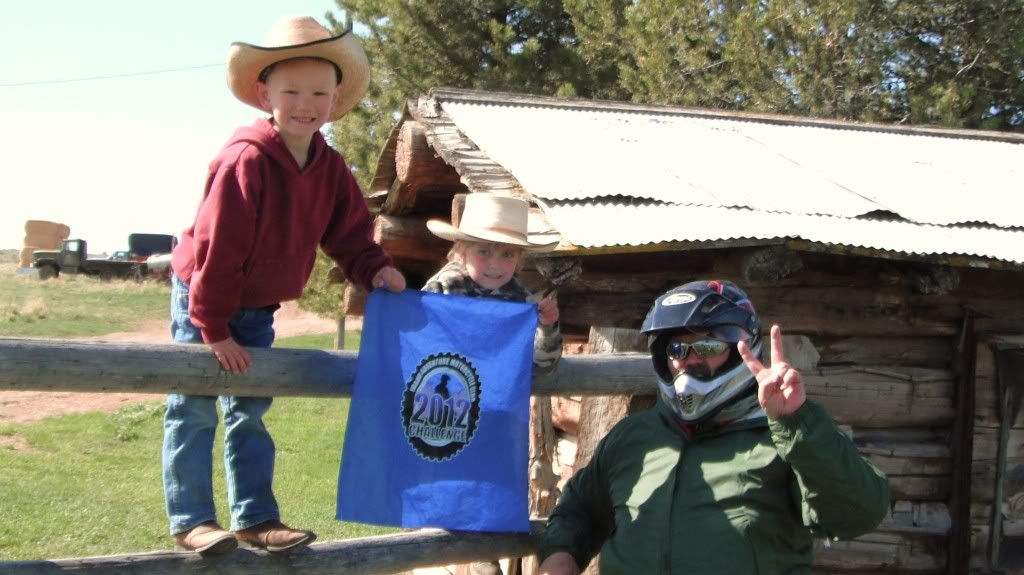 they are all cousins having a good time seeing each other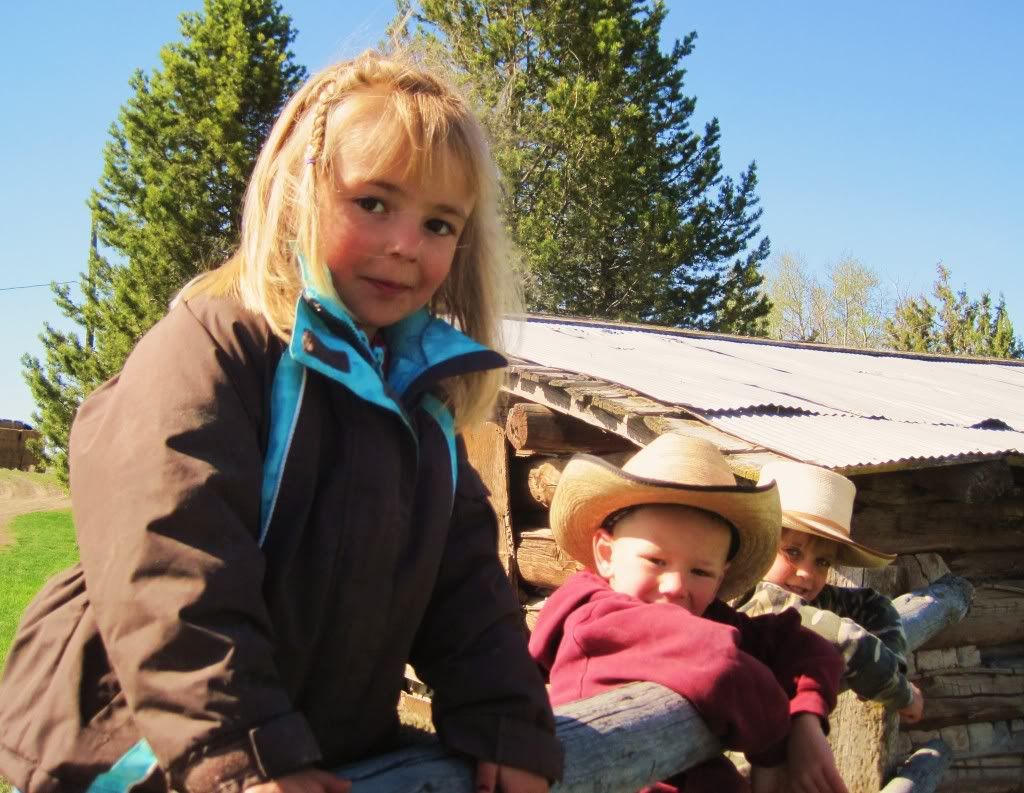 gotta love the hat! and the smile!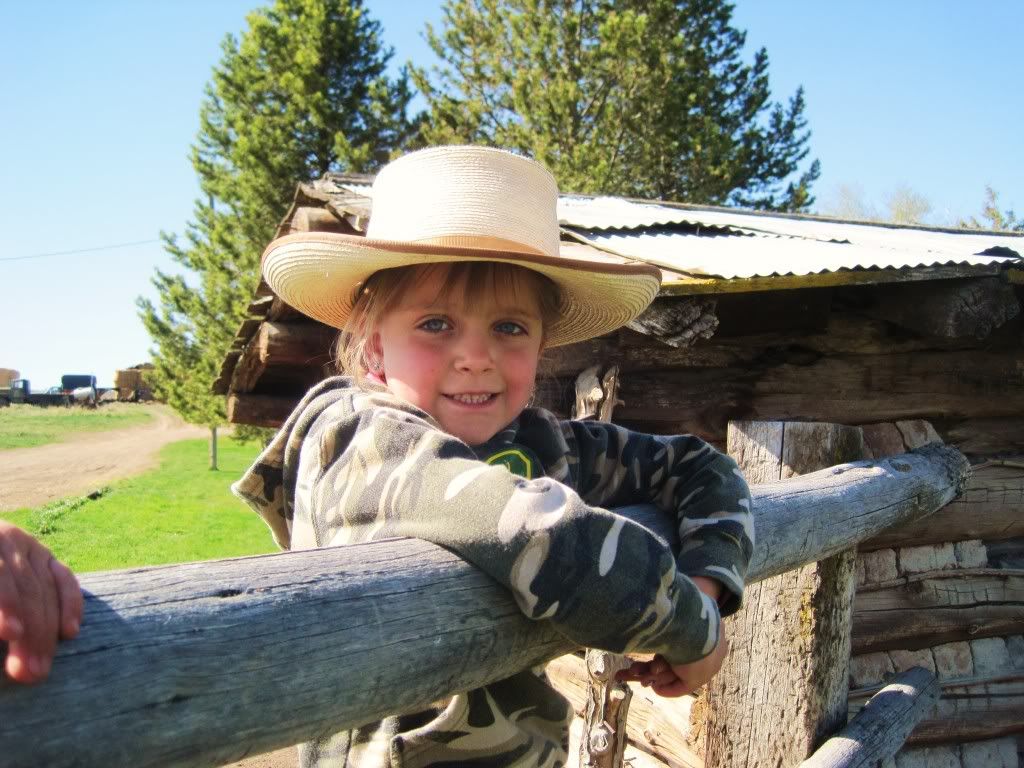 having done some buckarooing earlier in my life, I was tempted to stay and help out! Here's the crew bring the herd in...




but this nagging worry about whether we were going to make it to a gas station wouldn't go away... so we pressed on... we debated between Rogerson or Buhl as the best place to go, we ended up taking the 17 mile road to Castleford hoping to find fuel there, but the station was closed because it was Sunday... I put in my extra gallon of fuel at Three Creek, and had to go on reserve about halfway to Castleford, by the time we got to Buhl, I had gone 25 miles on the reserve... I put 5.7 gallons in a 6 gallon tank when I filled up... whew!!

finally with full fuel tanks, we could breath a little easier... Trent had never been to Balanced Rock, so we decided to go that route on our way home to Boise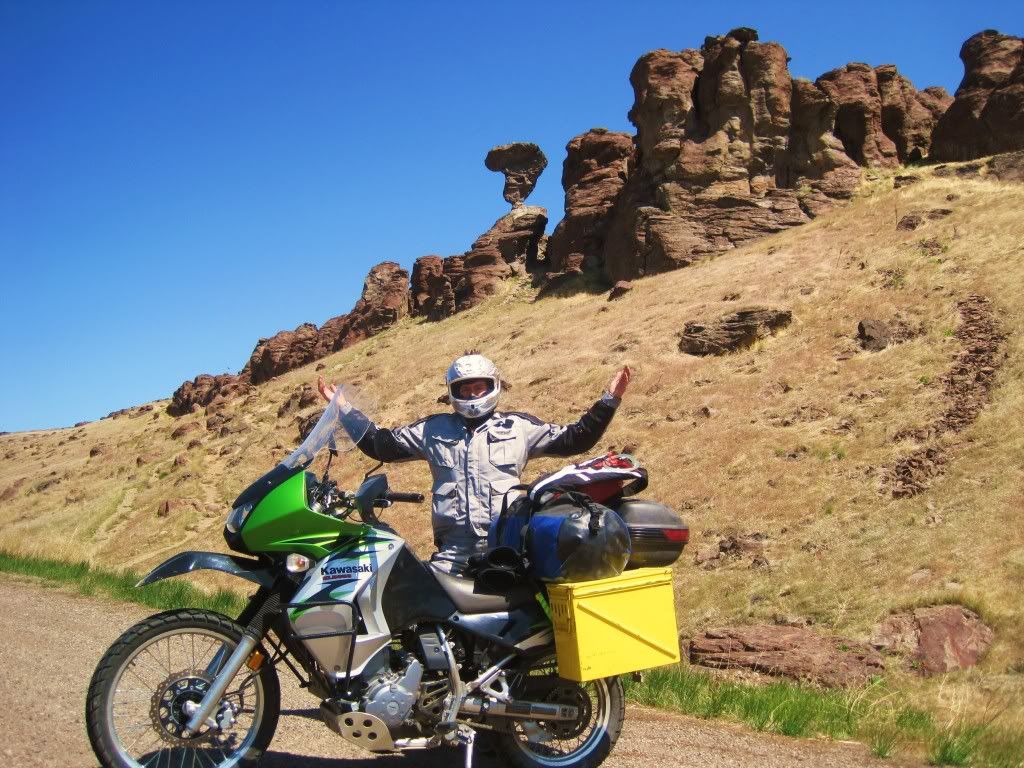 Even though it was a pretty cold ride with freezing nights, it turned out that the roads in the Desert were fine... we found no muddy roads and with the exception of NF rd 67, all roads were level 2... a great ride, great new country visited and riding with a good buddy, can't beat that with a stick...


with all our concerns about NF rd 67, it turned out to be the highlight of our trip... we highly recommend it if you get out that way, you won't be sorry... happy trails!....